The Eswatini Demographic Survey shows that about 51% women in Eswatini lack the power to make their own decisions on sexual reproductive health matters such as having sex with partner, using a contraceptive or getting healthcare. This was shared by UNFPA Head of Office Margert Thwala-Tembe in her remarks during the launch of the State of the World Population Report 2021 on the 23rd of April 2021.
The State of World Population Report is an annual publication by UNFPA and highlights challenges faced by people globally. This year's report was influenced by the COVID_19 pandemic, which caused disruptions in access to essential health services and put many women and girls at risk.
The Head of Office quoted this statistic to highlight the importance of ensuring that everyone, particularly women and adolescents had total autonomy over their bodies. This was in line with this year's theme: My Body is My Own: Claiming the right to autonomy and self-determination. She further shared that one's power to make their own decisions was crucial to realising their full potential.
"Gender inequality is the most pervasive impediment to bodily autonomy and restricts women's decision-making powers," Thwala-Tembe stated further urging men to support efforts for enabling women to achieve bodily autonomy.
"Communities will flourish when all people have the power to make their own informed decisions about their bodies & futures. Realising bodily autonomy for everyone will bring us a giant step closer to a world of greater justice, equity, opportunity, dignity & well-being," she added.
In Eswatini, UNFPA works with many partners in implementing programs aimed at enabling women to achieve bodily autonomy. These include government ministries, faith based organisations, and civil society organisations.
In his address, Minister of Economic Planning and Development Dr Thambo Gina lamented on the setbacks poised by the pandemic making particular adolescents.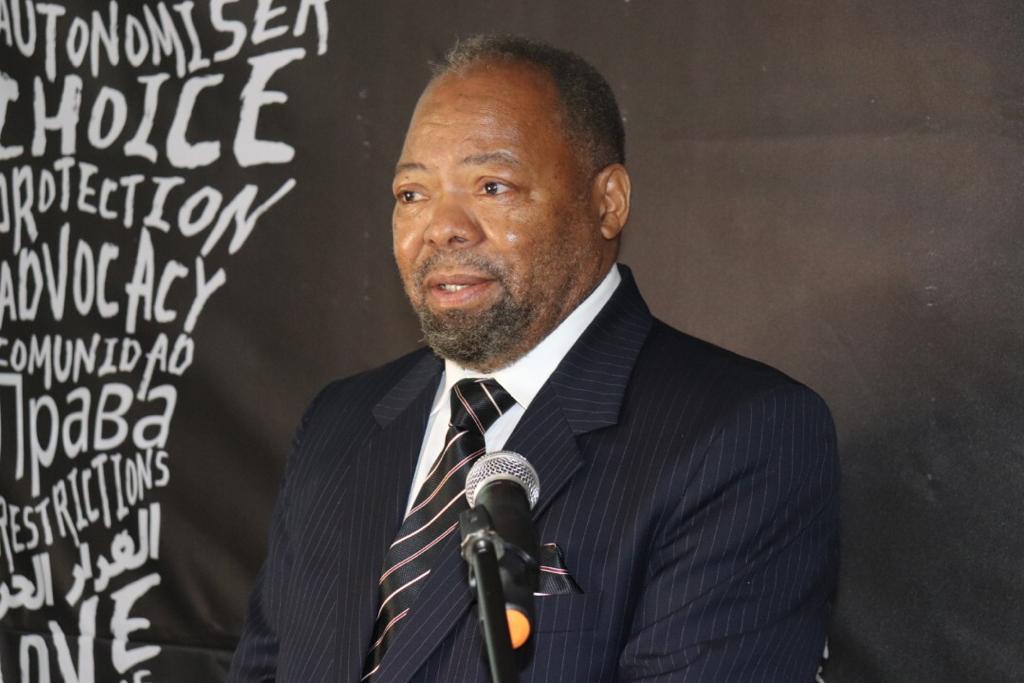 "This is very important as a lot of girls have lost their future potential through adolescent pregnancy & thereafter dropping out of school. This is also true for boys who through bad influence get involved in drugs & substance abuse & also ultimately drop out of school."
He further requested men to desist from violating young girls by being in sexual relationships with them as it was another way of prohibiting their bodily autonomy.
"Poverty plays a huge role in influencing the behaviour of our young girls & boys. Statistics indicate that within Eswatini, a higher number of adolescent girls become pregnant from poor rural areas, as opposed to their counterparts in urban areas."
Program Specialist-Population and Data Rachel Shongwe-Masuku shared brief highlights of the report which showed that globally, only 55% of women are able to make their own decisions in the three dimensions of bodily autonomy. In terms of laws supporting or constraining decision making, 80% of countries had laws supporting sexual and well while 75 have laws supporting access to contraception.
The semi-virtual event was attended by UNFPA government officials, United Nations agency heads, as well as implementing partners. UNFPA Safeguard Young People (SYP) programme ambassador, Thamsanqa Sibandze, affectionately known as 'KrTC of Hip Hop' rendered a poem entitled Believe Her, which advocates for support to women whose bodily autonomy had been violated. Through this poem, he urged Emaswati to be attentive to what abuse survivors tell them, supportive and shun away from being judgemental. In like manner, he encouraged help and health seeking behaviour among those violated.
As UNFPA in Eswatini seeks to reduce institutional maternal mortality by 50 % in the first 5 years of the Decade of Action, achieving bodily autonomy is one crucial as it would ensure that women are able to make informed decisions regarding their sexual and reproductive health.