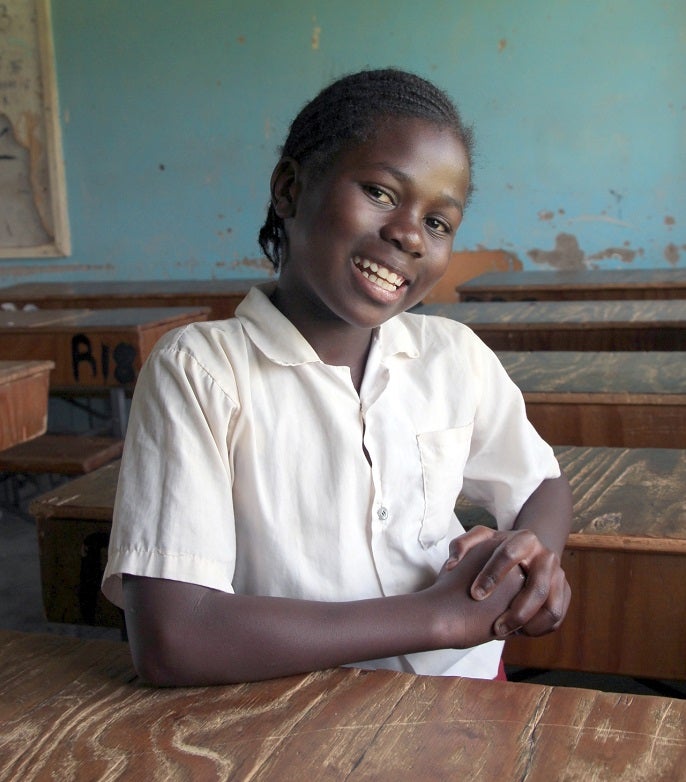 Celebrating Menstruation, from Menarche to Menopause
The cycle of poverty is a complex phenomenon, yet an intervention that tackles just one of its elements can make a world of difference.
Take an initiative at a primary school in Malawi. Every Friday, a group of schoolgirls gather in a room that has been set aside for them at Lifidzi Primary School in Salima District. Here, they learn how to make sanitary pads using locally available materials. They also listen to information on sexual and reproductive health, including where to access services, and learn communication and interpersonal relationship skills.
This tackles a challenge faced by too many girls in Africa – how to manage their menstrual cycle with dignity and in comfort, without missing classes and jeopardizing their education and their ability to achieve their full potential.
The initiative, supported by UNFPA, shows that one group of change-makers can have a knock-on effect for more girls. The pads they make are available to other girls in the school. They also teach pad-making skills to out-of-school girls.
The onset of puberty and the menstrual cycle is a fundamental and healthy part of the lives of women and girls. Menstrual health management is linked directly to the fulfilment of human rights and, more specifically, sexual and reproductive health and rights (SRHR). It is a precondition for attaining the rights of health and education. It is also as a matter of dignity in its own right. Yet in Africa, inequality in SRHR disenfranchises millions of girls and women. This denies nations the foundation for development and achievement of the SDGs, and it diminishes Africa's prospects for harnessing the demographic dividend.
Let's consider the numbers: 30 per cent of Africa's population – or 357 million people – are girls and women aged 10 to 50 years. A woman menstruates for an average of 2,535 days in her lifetime, or almost 7 years out of 39 (5 days per 28-day cycle)! That potentially leaves a high number of days 'lost', which would have a significant effect on her performance at school, and at work.
As a mother of an independent, strong and inspiring young woman, I recall how her birth was welcomed with overwhelming joy and trepid anxiety, simply by virtue of her being female.
As a mother, right from birth, you want to get it right! To protect her from day one from gender inequality, which is inbuilt in many societies. To give her age-appropriate information and, especially before puberty, help her cope with the pending changes to her body and emotions. To help frame her understanding of menstruation, not as something to be feared but as a symbol of feminine power. To prepare her in her teens for her first relationship. To strengthen her sense of autonomy. To help her access services as and when needed. To empower her to choose when and with whom to embark on her first sexual experience, and to ensure that experience is enjoyable and she is protected from exposure to HIV, other STIs, and unintended pregnancy. To protect her from sexual coercion, harassment and sexual predators. To embrace and be comfortable with her sexual orientation and gender identity. If and when she decides to have children, to increase her chances of a safe delivery, without injury or death. To instill the preventive practice of regular screening for breast, cervical and other reproductive cancers. And, before menopause, to prepare her for the approaching changes so she enters this new phase of life in a positive frame of mind. And as such, to empower her through her entire sexual and reproductive life cycle.
If we are to advance the reproductive health and rights of girls and women in the next decade, menstrual health provides a critical opening to the constellation of SRHR matters.  
This is why, in East and Southern Africa, UNFPA and partners are leading change for improved menstrual health throughout the reproductive life cycle. A regional first, the Menstrual Health Management Symposium, is to be held in Johannesburg, South Africa, from 28-29 May to discuss a broad perspective from a life cycle approach.
It marks International Menstrual Hygiene Day, themed, Empowering women and girls through good menstrual hygiene, and is a celebration of female power – as daughters, sisters, mothers and aunts – throughout Africa.
I am proud to be part of a partnership whose deliberations will inform the Johannesburg Call to Action for the Improvement of Menstrual Health Management in Africa. The partnership will launch the African Taskforce on Menstrual Health Management.
This is precisely the contribution we need to make to global efforts to promote the health and well-being of women and girls.
In Africa, it is high time we throw aside the myths and misconceptions, and the negativity that, for too long, has surrounded the menstrual life cycle, from menarche to menopause. 
And that time starts right now.